Monday 2pm – The complete video of last night's show is available for viewing and sharing:
Philip Aaberg December 20, 2020 Live from The Bin Chester, MT
Enjoy!
___________________________________________________
Sunday 8:45pm – to all who were unable to access the concert:
We will be posting so you will be able to watch the entire show at your leisure. A link will be added here as soon as it is available. Apologies to everyone who was unable to log in this evening.  Phil & Patty
UPDATE
The arts council server was overloaded – but this link is working!
https://www.twitch.tv/mtactors
you will need to make a login
We are also recording the show and will post it at the end of the show, after 5:30pm MT time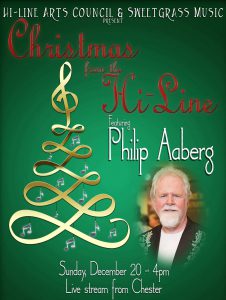 Phil returns to his studio in Chester for a live broadcast of a very special Christmas concert. This one hour performance this Sunday, December 20 at 4pm MT celebrates the season and is presented by the newly invigorated Hi Line Arts Council.
The concert is live streamed free of charge, thanks to the support of sponsors: Northern Montana Healthcare, Bear Paw Development, MSU-Northern, Western Drug Pharmacy, McDonald's of Havre, Gary and Leo's Fresh Foods, Debbie Vandeberg, Montana Actors' Theater
To find out more about the Hi Line Arts Council:
For concert access: Concert December 20 password: xmas2020
We hope you'll add a donation to the Hi Line Arts Council fund: Support the Hi Line Arts Council because even if you aren't in NorthCentral Montana, it will give you a warm, fuzzy feeling and lots of thanks from us!